Its time to Buckle Up mates! As TheoreX is booming the market soon!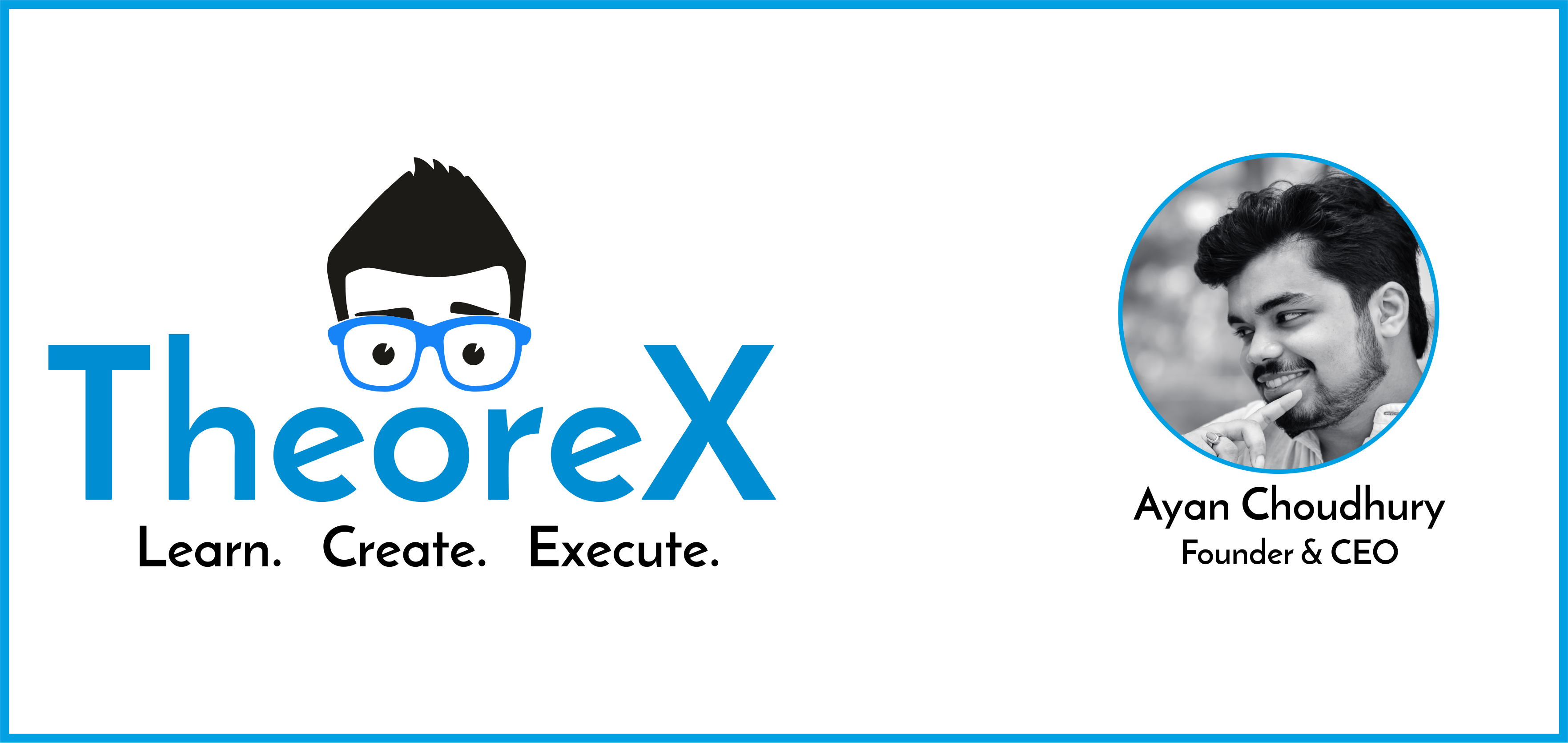 Its time to Buckle Up mates! As TheoreX is booming the market soon!
Hey you awesome reader,
You are awesome because you made time to read my puny blog! :-D
Whatever, hope you are doing good! You are here because maybe I think you have some interests in TheoreX. Well, I don't think, I know you do! and you must be, because something really creative and unique is coming soon in the vast and most powerful E-learning Industry. Yes, TheoreX is based on E-learning, but wait Dear! there's lot more than you are thinking of right now. Eager to know what is that! Hold on, we have enough time to discuss about this. First Let me know you why I started this, why I love TheoreX as my family member, as my Son! :-)
I am just a normal Software Engineer graduate, a damn bored & frustrated pass out of the batch 2015 from Techno INDIA-salt lake, . More importantly, Every Engineer's dream is to get a Job from Campussing and making his/her parents Proud! But, I was not that kind of guy, never I want to be one! I want to make my Parents happy being a Successful Human Being. Now some of you will say, getting a Job after your graduation, isn't that Success? Well, I don't know what you believe, rather I don't want to but I believe that this is not 'Success'. What I believe is, you are successful when you don't have to introduce yourself. You are successful when your follower circle will be much bigger than your friend circle. I believe you are successful when you will be scoring 10 out of 5 daily. You are successful when you have your own Empire, rather working for others!
I heard people say that Entrepreneurship is breeding in every home nowadays, yes I do know it's growing and I support them to the fullest, because those people cum Entrepreneurs know if you don't take risks in every single step of the life, there is zero chance of winning. They know, their fights starts from the very first day they decided to be an Entrepreneur. They never know that are they going to be successful or failure. The only thing they know is to take risk, is to give their 500% to make any shit happens. And that's how they become successful, that's how they make an impact in the industry, in the society. Moreover, they listen to their heart, not mind.
Yes, I am proud to be one of them. I am proud to become an Entrepreneur because the circumstances made me do so. I am proud to enjoy this shitty life for the rest of my life, because I 'love' what I do! And that is why I didn't get a Job from College. I even didn't try to get one. So, what I did to gain industry level experiences? I joined famous open source communities, I worked with them without getting a single penny, because again I loved what I was doing, I loved the exposure I was getting and I still do. But you know, there will be a hell lot of people who will be back bitching you, who will use you and who will hate you because, either they are not capable of what you are doing or they have fear taking risks. Yes, I love to get hated because those who hate me are my true fans. :-D
During those college days, I realised one thing clearly that students in India (Specially West Bengal) don't get that much of exposure in the industry before they are joining in one. They have least idea how industry is working nowadays. They don't even know, what technology they should focus on to become successful in future. All they know is what College teaches, that's all. No Sire, No Ma'am. That's not. There is a hell lot of other things you need to know apart from 'C', apart from 'Java'. That is why TheoreX is here! I made TheoreX for giving a perfect shape to this Educational Industry. I don't want to see pupil facing Unemployment problems at the end of their Graduations! I don't want to see people leaving jobs because they don't like it or they are not capable of that! I want them to grow their expertise, experience while they are students or some corporate. I want to give them a perfect Industry Level Exposure before joining any industry or maybe while working in any industry. I want them to 'showoff' their skills as much as they can. I want to make them so much professional that organisations propose to hire them through our portal, they offer our users more than others! That is why TheoreX is coming for you bringing a hell new concept to E-Learning and 'more'. We are booming this very sooner. Wait till the next blog to know about TheoreX.
In the meantime, you can subscribe
here
.
Thanks for you patience for making it to the end! Loads of Love.
To Be Continued...
Listen to your Heart, that will help you making to the Top of anything!
Maybe not Today, Maybe not Tomorrow, but Surely Someday!